MVP
Item no. SS46072G3
<! –– Bazaarvoice Shopify Integration Version 2.1 ––>
HEIGHT ADJUSTABILITY – Internal Compression Height Adjustment Mechanism allows rim height to raise and lower 6' to 10' and increases hoop safety with no pinch or grab points
MINIMIZES SHAKE —Off-Set 6" square one-piece steel pole with seven-gauge (3/16") wall thickness minimizes shake and aids in reducing wear and tear on joints of the system and provides a 4ft Extension from wall to front of backboard
72-INCH BACKBOARD —Backboard is 42" x 72" and mounted on an exclusive H-Frame design made of 1-1/2" structural steel tubing to provide precise and consistent ball response
PROTECTIVE PAINT PROCESS – Corrosion-Resistant paint process of one primer coat and two coats of baked on acrylic-enamel provides a high-gloss finish
EASY INSTALLATION — Ground Anchor Hinge System is an exclusive Goalsetter design that enables easy installation of the goal system without the use of scaffold or ladders
The unmatched craftsmanship, durability, and performance of the Goalsetter MVP have made it the industry's premier playground basketball goal. The MVP system offers a massive 6" square offset mast with 3/16" wall thickness and full 4' x 6" square ground anchor for ultimate stability. The competition size 42" x 72" Acrylic backboard exceeds the demands of today's outdoor playgrounds and provides a full safe 4' safety play area. With the simple turn of the height adjustment handle, the MVP will infinitely adjust from 6' to 10' for maximum participation and enjoyment. Increased safety is achieved with the height adjustment mechanism inside the pole. The internal height adjustment mechanism enhances safety by eliminating pinch and grab points. This basketball goal is made in the USA with an unmatched Lifetime Warranty.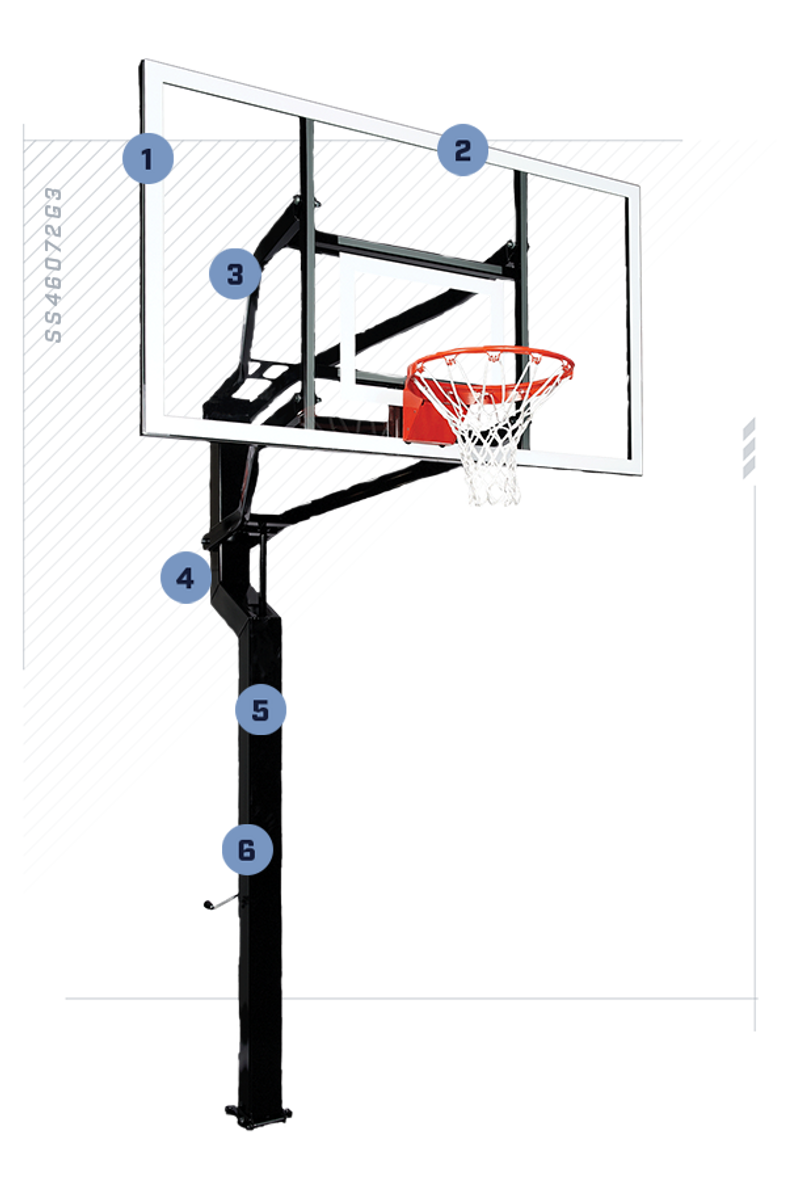 FULLY TEMPERED GLASS (ACRYLIC OPTIONAL) BACKBOARD
⅜" competition, tempered glass backboard. Acrylic optional. Maximum strength to withstand the harshest environments and the toughest play.
INNOVATIVE H-FRAME BACKBOARD TECHNOLOGY
1 ½" structural steel tubing around entire backboard. Design provides precise and consistent ball response.
WIDE-GRIP EXTENSION ARMS
One-piece design to avoid potential breakage and rust. Counters backboard torque and provides backboard stability
EXCLUSIVE OFF-SET POLE DESIGN
Square, 7-gauge structural steel construction minimizes shake, reducing wear on system joints. Maximizes backboard stability and ball response.
SUPERIOR CORROSION-RESISTANT PAINT PROCESS
One primer coat and two-part, acrylic-enamel paint. Oven-cured to ensure superior adhesion and high-gloss finish. Meets homeowner association requirements
EXCLUSIVE INTERNAL COMPRESSION HEIGHT ADJUSTMENT MECHANISM
Patented mechanism adjusts rim height from 6' to 10'—smoothly and effortlessly. Increased safety with no pinch and grab points. Easy-To-Read height indicators.
<! –– Bazaarvoice Shopify Integration Version 2.1 ––>