Elite Plus Basketball Hoop
Item no. TS44154A3
<! –– Bazaarvoice Shopify Integration Version 2.1 ––>
54-INCH BACKBOARD — Quality, entry-level in-ground basketball hoop features 54" tempered glass steel-framed backboard (acrylic optional)
HEIGHT ADJUSTABILITY — Awning crank handle height adjustment mechanism raises and lowers rim from 7' to 10'
SAFE OVERHANG — 2 ½' safe play extension from pole to backboard and 4" x 4" straight one-piece steel pole
MOVES WITH YOU — Anchor mounting offers the strength of concrete and the option to unbolt and move goal
AMERICAN-MADE QUALITY — Backed by a five-year limited warranty and made in the USA with superior quality and workmanship
Get the home court advantage with the Goalsetter Elite Plus basketball hoop. The next time you're in the mood to ignite your game, hit the open three, or drive the lane, just walk outside. This quality, entry-level basketball hoop adjusts from 7' to 10', allowing even the youngest players to perfect their shot! The awning crank height adjustment mechanism is a time-proven, economical system designed to raise and lower the rim. The Elite Plus features a 54" x 36" x 3/8" tempered glass steel-framed backboard (acrylic optional) and offers 2 ½' of overhang from pole to backboard. The one-piece 4" x 4" straight steel pole is assembled with a 42" square steel anchor placed in the ground and provides unmatched stability and durability. When it's time to move your Goalsetter basketball hoop moves with you by simply purchasing a replacement ground anchor. Every Goalsetter basketball hoop is made in the United States and backed by a five-year limited warranty. Your Goalsetter basketball goal will provide many years of fun, exercise, and memories for the entire family!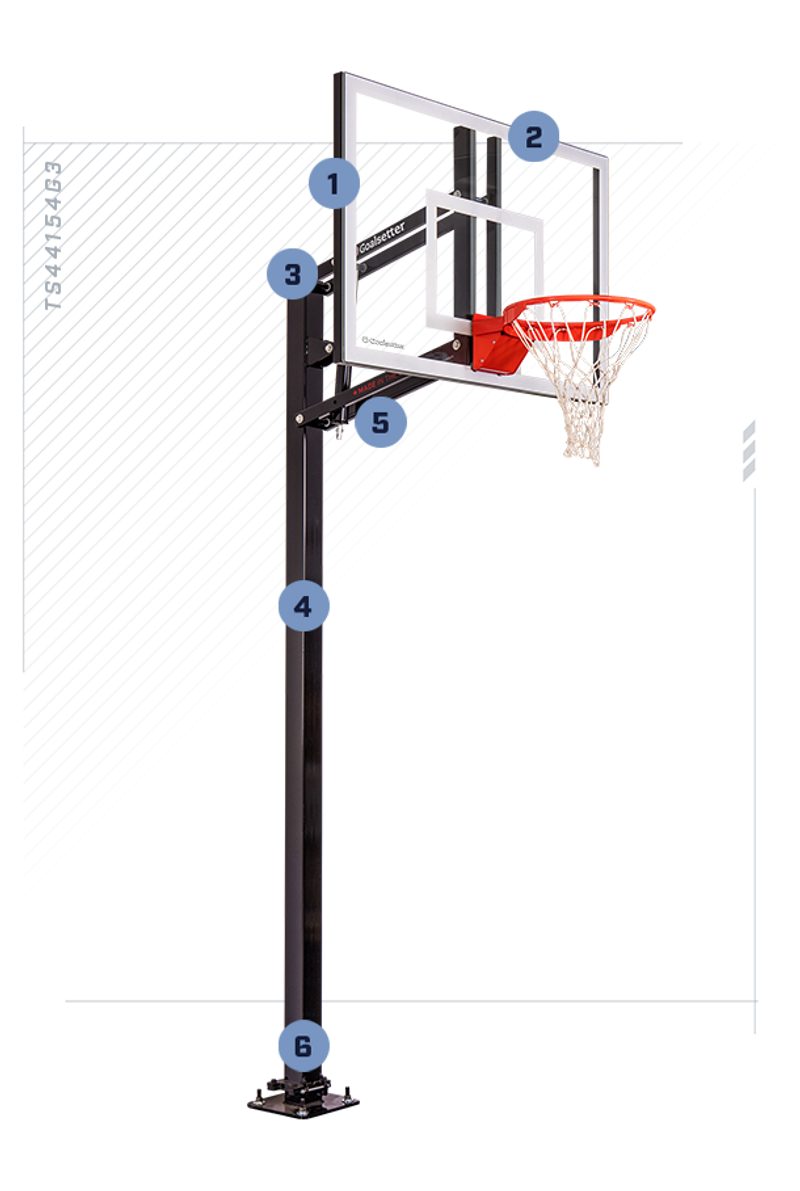 FULLY TEMPERED GLASS BACKBOARD
⅜" competition, tempered glass backboard. Maximum strength to withstand the harshest environments and the toughest play.
INNOVATIVE H-FRAME BACKBOARD TECHNOLOGY
1 ½" structural steel tubing around entire backboard. Design provides precise and consistent ball response.
WIDE-GRIP EXTENSION ARMS
One-piece design to avoid potential breakage and rust. Counters backboard torque and provides backboard stability
SUPERIOR CORROSION-RESISTANT PAINT PROCESS
One primer coat and two-part, acrylic-enamel paint. Oven-cured to ensure superior adhesion and high-gloss finish. Meets homeowner association requirements
AWNING CRANK HEIGHT ADJUSTMENT MECHANISM
Time-proven, economical system designed to raise and lower the rim height from 7' to 10'—smoothly and effortlessly.
EXCLUSIVE HINGED GROUND-ANCHOR SYSTEM
Enables easy installation of the goal system without the use of scaffold or ladders
<! –– Bazaarvoice Shopify Integration Version 2.1 ––>